Posted on
April 9, 2021
in
How to select the right Acrylic Foam Bond (AFB™) from Avery Dennison for your converting project
Tacon is seasoned in converting acrylic foam tapes and other pressure sensitive adhesives to any size, shape, and format. We can offer rolls of tape which are slit to customized widths or foam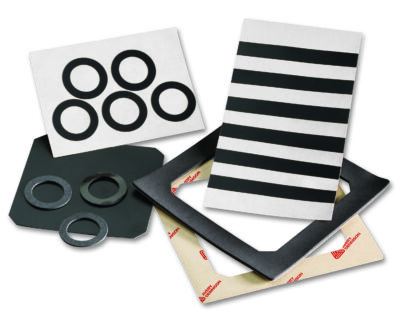 tapes cut to custom shapes and dimensions. These parts can be provided in multiple formats lik on a roll, on sheets of liner, and also as bulk pieces with a liner to protect the adhesive. These possible formats are designed to make your assembly process easier. Whether you apply foam tape components manually or use machine automation, Tacon can design a solution that is customized to fit in with your existing application or processes.
Acrylic foam Bond (AFB™) tape is used in applications that need a high-performance connection. Examples of such bonding are automotive bonding, medical device component attachment, gasketing, and  more. This acrylic foam tape can create bonds comparable and to replace mechanical fixations like screws, rivets, welding, and other permanent connections.
Acrylic foam tapes are a high strength, flexible, and resilient foam adhesive that enables permanent bonding between many substrates while also improving the performance of their product or simplifying assembly.
The Acrylic Foam Bond (AFB™) line of products from Avery Dennison is designed for a wide range applications which require a high bonding strength. The AFB acrylic foam tapes are engineered by Avery Dennison to offer a strong tack and adhesion to a many Low Energy and High Energy surfaces like as PC, ABS, PMMA and metal.
This Acrylic Foam Bond tape family have great features:
Foam tape with viscoelastic acrylic foam carrier
Closed cell structure
Acrylic adhesive system
Paper and film easy release liners
Benefits
High adhesion combined with good shear absorbs shock and distributes stress evenly
Good moisture, UV and high temperature resistance
Uniform bonding performance
Can help eliminate the need for mechanical fasteners, drilling or grinding and related clean- up for certain applications
Polyethylene liner option helps provide good moisture stability and easier converting with its high tear strength
Temperature Ranges:
Application minimum: 10°C (50°F)
Service continuous: -40°C to 120°C (-40°F to 248°F)
Service short term: 160°C (320°F)
Typical Applications:
Glass and window mounting (water resistant)
Loudspeaker and microphone bonding, television display and frame mounting
Lens bonding for tablets and smart phones
Door frame mounting for design decoration, refrigerator and other home appliances
Nameplate, signboard and other component assembly and lamination
Elevator stiffener mounting and lamination
Assembly of cushions, pads or strips, fixation of mirrors and cabinet doors in furniture
Automotive attachment and mounting
Acrylic foam offers enhanced internal strength properties versus PU and PE foams. Additionally, AFB™ provides good foam relaxation and stress vibration and can be used for gap filling.
if you want to understand which AFB™ tape you need from the range, just use below table to match your substrates with the best AFB™ Tape family option!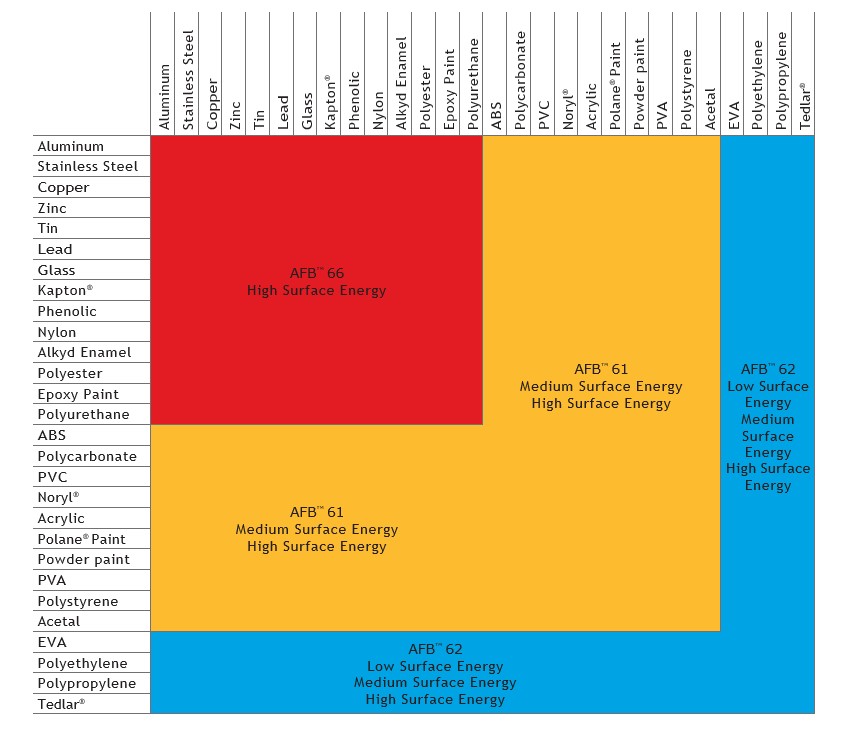 Application Guidelines
There are four key factor to consider while applicating the acrylic foam foam tapes:
Clean the surface
Clean the area to be bonded with a 50/50 mixture of isopropyl alcohol and water with a

clean

, non-abrasive cloth.
Know the temperature
The recommended temperature range for applying AFB tapes is: 16-43°C (60-110°F) and 38°C (100°F) in a humidity range between 30-80%.
Put pressure
Pressure is needed to provide intimate contact (or wet-out) between the tape and the bonding surface.
Time
After 20 minutes curing you reach 20% of it's strenght, after 60 minutes 75%, after 24 hours 90% and after three days 100%. So important to take this into consideration when you in a hurry.
Also have a look at our video quick guide about Surface preparation for adhesive tape applications.
Let us know what your AFB™ Converting challenge or idea is by using below form.
Related posts