Posted on
November 15, 2021
in
Case study: IDRO Smart Patch
Co-development of a smart patch that measures real-time lactates in sweat for the purpose of injury prevention.
Case study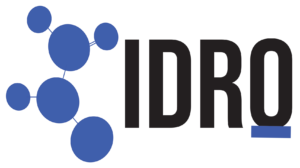 At least 50% of the Dutch population sports once a week, which unfortunately results in injuries at times. Approximately, half of these injuries require medical treatment by a physiotherapist, increasing pressure on healthcare capacity. In addition to soccer, many injuries occur in endurance sports (e.g. running, cycling, triathlon…) with more frequent chance on acidosis. Monitoring of the acidosis (= lactate level) can prevent these injuries. Lactate acidosis is a medical condition characterized by the build-up of lactate in the body, caused by low oxygen level in the muscles to break down glucose and glycogen.
Kinetic Analysis and Tacon|Matrix are in co-development of the IDRO Smart Patch to measure real-time lactate levels in sweat.
The innovation of measuring lactate level with IDRO Smart Patch
The method of measuring lactate in sweat was developed by KTH's Crespo Research Group. The current method of measuring lactate levels is only suitable in a hospital/laboratory environment, using a snapshot of the lactate level for clinical data. The co-developed product is an innovative smart patch measuring the lactate acidosis in real-time. In collaboration with Kinetic Analysis, our R&D team designed and developed a Minimum Viable Product (MVP) meeting the product's requirements. The combination of electrical components and the use of fluids (sweat) was a big challenge! Both should normally not be exposed to each other, but in this case they should be as lactate level in sweat is measured. Tacon|Matrix' expertise comes to selecting and integrating the right materials.

Why Kinetic Analysis Chose Tacon
Tacon|Matrix, expert in tape converting, has the knowledge around biocompatible skin adhesives. Due to their impressive network, Tacon|Matrix is seen as the specialist in the Netherlands in the field of plasters/adhesives with almost no comparable player in Europe.

"Tacon/Matrix is the only one with the necessary expertise to develop an adhesive smart patch in which sweat can be combined with a microfluidic trap."
– Maarten Gijssel, Managing Director, Kinetic Analysis
How Kinetic Analysis Uses the IDRO smart patch.
The dynamic monitoring of lactate while doing exercise is a crucial parameter for athletes and coaches to optimize training programs. The IDRO smart patch uses biochemical analysis to assure dynamic, personalized coaching for athletes to progress, optimize sports performance and prevent injuries. This patch distinguishes from existing systems because it is easy to use, monitors real-time lactate level and functions properly while sporting thanks to biocompatible skin adhesive.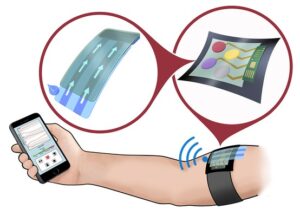 The Story of Kinetic Analysis®
Kinetic Analysis® supports businesses to solve complex problems accurately and efficiently. A strategic plan and decision is never a risk-free investment. Still, now we can use science and technology to solve existing problems in a data-driven way. Innovate towards the golden goal and customize solutions based on the actual values and business needs. Kinetic Analysis has delivered successful solutions for many companies including Toyota, AstraZeneca, ACES Europe, and the Royal Dutch Hockey Federation.
Share your idea and let's convert it today!
Related posts